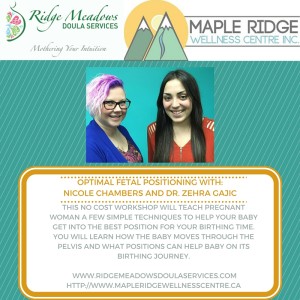 Maple Ridge Wellness Centre Inc.
309 – 22230 North Avenue, Maple Ridge, British Columbia V2X 2L

Saturday Feb 20th from 1-230PM
Join Dr. Zehra Gajic and Nicole Chambers to learn about optimal fetal positioning. This NO COST workshop will teach pregnant woman a few simple techniques to help your baby get into the best position for your birthing time. You will learn how the baby moves through the pelvis and what positions can help baby on its birthing journey.
DR. ZEHRA GAJIC IS A CHIROPRACTOR WHO PRACTICES IN THE HEART OF MAPLE RIDGE, BC. SHE HAS A SPECIAL INTEREST IN PREGNANCY AND PEDIATRIC CARE AND IS PASSIONATE ABOUT HELPING HER PATIENTS LIVE THE HAPPIEST AND HEALTHIEST LIFE POSSIBLE.
NICOLE IS A DOULA AT RIDGE MEADOWS DOULA SERVICES AND HAS WORKED WITH HUNDRENDS OF PREGNANT WOMAN OVER THE LAST 15 YEARS AND HAS TAUGHT OVER 300 PARENTING CLASSES ON MANY TOPICS. NICOLE AND THE OTHER BIRTH DOULAS FOCUS ON IDEAL POSITIONING FOR THEIR PREGNANT CLIENTS AND EDUCATE ON WHY THAT IS HELPFUL DURING BIRTHING