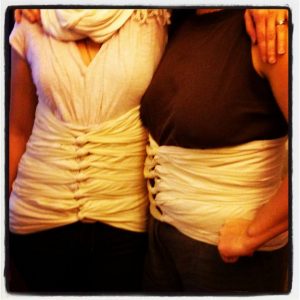 What is Bengkung ?
Bengkung is a traditional Malaysian belly binding method. Essentially it is a practice of tying a long strip of cloth around the abdomen during the postpartum recovery period to ensure a strong support to our womb after childbirth.
Why belly-binding ?
-Pulls in the separated abdominal muscles (diastasis recti) back together.
-Prevents back pain. While wearing it, you are reminded to sit and walk straight and a good reminder to not slouch and breastfeed
-Decreases postpartum bleeding time by speeding up the process of getting rid of waste blood in a natural way.
It's an ancient traditional natural way of healing after birth.
What makes a Bengkung different from western postpartum girdles like Belly Bandit ?
It's the length. A Bengkung Belly Bind is a long wrap that covers from under the chest all the way down to below the hips. The difference between this and a girdle is this binds you  and can contour your body perfectly whereas the ones you purchase are "one size fits all".
Nicole, Dawn and Kim are trained in Belly Binding from IPPA (International Postpartum and Placenta Association)
****It's recommended to wait 2-4 weeks after a cesarean birth so the initial healing process has begun. After a vaginal delivery binding can be done within the first week. It's generally recommended to bind everyday for approx 6 weeks (traditionally 40 days)****
Investment- $100
-This included a 1 hour demo of how to bind, your first belly binding and the fabric. (additional travel charges may apply)