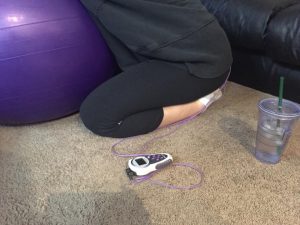 Often people ask how painful birth will be…
Birth is sensational in so many ways, it raptures your five senses in nearly every way imaginable, and the idea that these sensations are "pain" is entirely interpretive. When you are preparing yourself for the incredible things that lay ahead, it's good to have a clear idea of how to interpret the "pain" you may be expecting. The following is a helpful acronym to explain the positivity of pain…
P (purposeful) What is the purpose… To empower yourself and birth your baby. The purpose is to hold your baby in your arms. Research shows that woman who are labouring and imagine holding their baby in their arms report less pain than those concentrating on other thoughts, (Cool right!) Usually pain indicates that there's a problem. For example, when we break a bone, it hurts because our body is signaling to our brain that something's wrong. In our birthing time, nothing is wrong, there is no danger. The physical sensations that you experience are there to direct our body to open up and birth the baby. Sensation = productivity!
A (Anticipation) Since you know that you will be birthing this baby you can be proactive and find pain management skills to assist you in your birthing. It is easier to anticipate pain that is expected. So practice your deep breathing and meditation, make a list of what you want to do when you have a contraction (bath, hot water bottle, tens machine…) there are so many options. With this list you will certainly figure out your rhythm and rock it.
I (Intermittent) The rest period between contractions is one of the best kept secrets of birth. Unlike any other pain you have experienced, you get a break when you are in labour. When you have a contraction, you feel the wave come on, you feel the wave peak, you feel the wave go down and then it is ALL GONE. My belief is birth is managing the mental game; you can do anything for 1 minute; A contraction is 60-90 seconds and then it is ALL GONE. Using your birth team to help you stay cool and calm and reminding you of some of the coping strategies you have come up with will keep you present and encouraged for the next wave.
N (Normal) The medical definition of normal is "of natural occurrence or, free from any infection or other form of disease or malformation." A woman's body is designed for pregnancy and childbirth. Women have been giving birth since the beginning of time. Birth is an event that many people will experience and it's an event that happens every SINGLE day, ALL OVER THE WORLD. Birth, contractions, waves, surges (whatever you want to call it) are about as normal as life gets.
So, how painful IS birth..? That is something that only you can know about your own birth. Each woman (and human, for that matter) will experience different levels of pain tolerance, and handle the sensation of birth differently than any other. The best thing you can do to psych yourself up to first experience those sensations, is to be mentally prepared to accomplish something during your birth, rather than afraid and unsure. Be knowledgeable. Be confident. Know your options (medical pain relief options too!) and surround yourself with a lot of really great, encouraging support.