We are so excited to be the Maple Ridge/Pitt Meadows Host group for the baby box event. We have partnered with Maple Ridge Wellness Center to offer these no cost boxes to the community.
For more than 75 years, Finland's expectant mothers have been given a Baby Box by the state that serves as a starter kit for their new baby. It contains clothes, blankets, and other newborn necessities, and the Baby Box itself–which is lined with a mattress–is used as the child's first bed.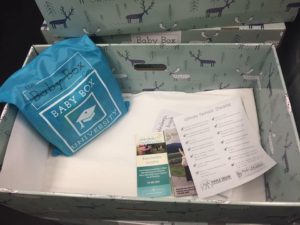 The Baby Box Co. guarantees a non-toxic, chemical-free and environmentally safe sleep space.
*Natural and organic linens, designed to be soft and allergy-safe for babies.
*Stylish and comfortable baby clothing for both day and night.
*Must-have infant care products curated with an emphasis on safety and sustainability.
To sign up for your box just go to http://www.babyboxuniversity.com/ Sign up and then call RMDS st 604-897-5847 to find out when our next event is.
Ridge Meadows Doula Services is your Elite Doula Collective. We work all over the lower mainland but primarily in the Ridge Meadows Area. Our services include birth doula, postpartum doula, childbirth classes, placenta encapsulation, car seat check by techs and of course events!